~ The Social Diary ~
~~~~~~~~~~~~~~~~~~~~~~~~~~~~~~~~~~~~~~~~~~~~~~~~~~
Italian Designer Gianluca Isaia Debuts his 2008 Collection at Neiman Marcus to Benefit Las Patronas
'Italian Workmanship that is 'well suited' for San Diegans who dress impeccably!'
Gianluca Isaia made a noteworthy appearance the evening of February 22nd, 2008 at Neiman Marcus. The much buzzed about designer, who is 'hush hush' known to have designs in the closets of some very high profile celebrities, meeted and greeted San Diego supporters of the Las Patronas organization. That's the Las Patronas who organize the stellar fundraising Jewel Ball, which in turns supports San Diego organizations.
And with the giving and shopping spirit in mind, guests came to sip martinis and Chardonay, nibble on delectable Neiman Marcus catered appetizers by the bite, and very importantly, peruse some beautiful Italian suits by Gianluca Isaia. With giving in mind of course. Part of the sales from this evening went to the Las Patronas organization.
Among those fashionable there were Lynda Kerr in a dress by Temperly and a fur by Michael Kors, Jennifer Greenfield wore a velvet Dolce and Gabbana suit, Kima wore a reversible leopard gown by Jem Designs, and Maree Mossmer looked tailored in a detailed Just Cavalli jacket and suit.
The men meanwhile discreetly shopped the beautiful fabric and suit options offered by Gianluca Isaia. La Dolce Vita indeed!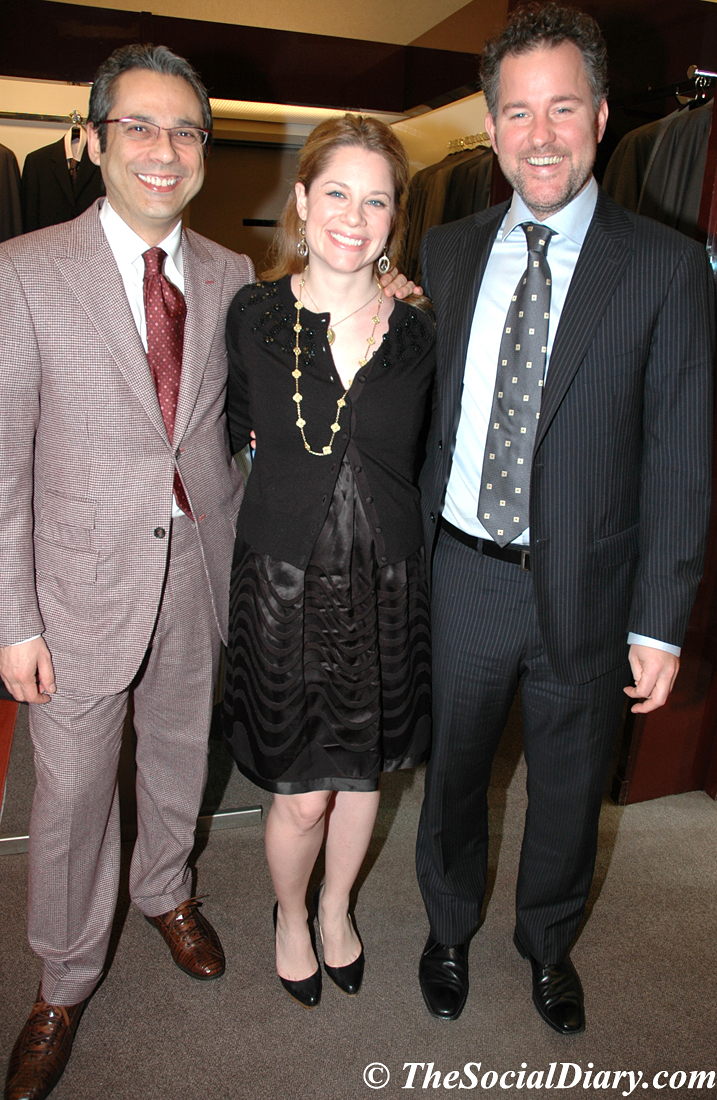 Italian Designer Gianluca Isaia with Lauren Weiss and Jim Shay
Gianluca's beautiful suits on NM Models
Jennifer Bright with Kima and Lyndy Carreiro ** A Neiman Marcus table display for the party
Kristi Pieper Rossbacher ** Shelley Wittaker and Guest
Kima loving Lynda Kerr ** Maree Mossmer with Lynda Kerr **Lynda and Richard Kerr
Seth Combs ** Michael Mossmer and Richard Kerr ** Dr. Richard Greenfield with Guests
Linda VanderMarliere with Dianne York-Goldman ** Steve Strauss ** Maree Mossmer with Lise Wilson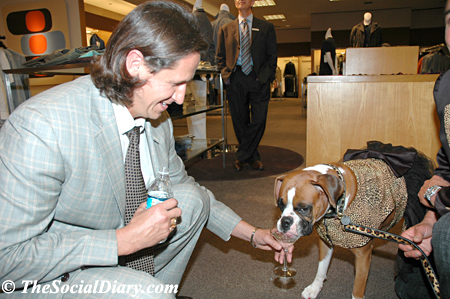 Neiman Marcus extending that extraordinary high standard of service to Kima.... bottled water out of a martini glass!!
To learn more about Las Patronas and the Jewel Ball please click www.laspatronas.org
reported by
Margo Schwab (in Shai and vintage bakelite bracelets) and web maestro Scott Johnston (in Jem Designs tuxedo jacket) and Kima, the reporter on paws, (in a reversible Jem Designs gown)
* Margo Schwab, formally known as Margaret E. Schwab, has produced, written, interviewed and photographed for various media organizations since 1989. Schwab attended Holton Arms School, La Jolla Country Day School and La Jolla High School. Schwab has a B.A. from Scripps College, spenta a business internship with S.A.I.C., Science Applications International Corporation, and earned a Masters of Business degree, M.B.A., from the University of San Diego. Schwab volunteers for numerous charity organizations. She also continues to lobby for water safety and for family violence mitigation. Schwab is the editor of The Social Diary. Margo is currently writing a book based on La Jolla.
Warning ** photos, video and writing on this site are the
copyright of The Social Diary, San Diego Social Diary
no reproduction of any part or parts is allowed without written permission by The Social Diary