Childhelp Photos Thursday
NEW - please click on event name
Ronald McDonald House Charities Gala followed by
American Lung Association Benefit Honors Clean & Green
Preuss School UCSD Celebrates 10 Years
23rd Genesis Awards 2009 Honors Ellen DeGeneres and Portia de Rossi, & More!..
Cover Profiles....The Party of 2008, The Brandes Halloween Ball with Fergie... Party Archives

The Social Diary's
Scott Johnston
pictured here with a very cute adoptable from the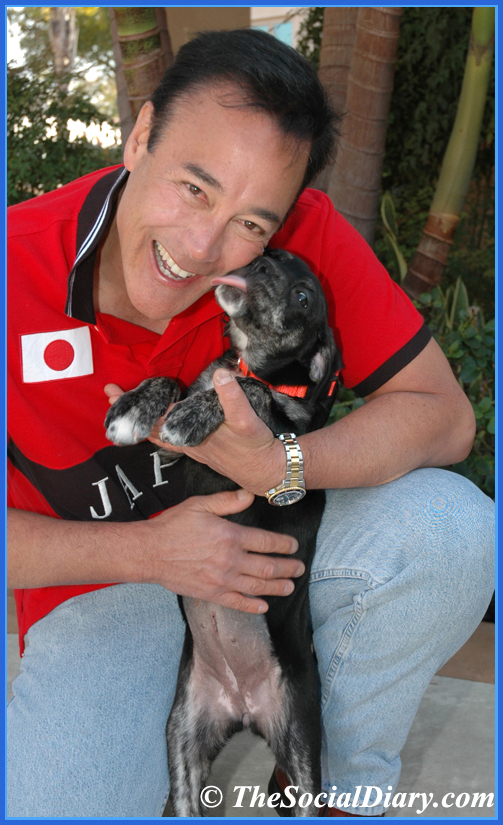 'San Diego's Finest' Police Officer for 32 years, Scott Johnston. Scott has received multiple awards for life saving, and he received SDPD's first Purple Heart for rescuing two officers down by 10 gang members. Scott was shot in the process.
Scott looks forward to 'retiring' this summer to spend more time with his family, and to work on improving and expanding The Social Diary.
Scott enjoys surfing, sushi, and a plate of great pasta. He also enjoys playing golf....his game is a work in progress!
Scott has enjoyed a career of helping people and animals. He now looks forward to helping others more through charity work and charity coverage on The Social Diary.
** photos, video and writing on this site are the
2009 copyright of The Social Diary LLC, and its subsidiaries, San Diego Social Diary, MargoMargo.tv, MargoMargo.com and Schwab Photography
no reproduction of any part or parts is allowed without written permission by The Social Diary
________________________________________________________________________
The Social Diary, Margo Johnston, Scott Johnston and Kima are or have been featured on:
The San Diego Opera, Las Patronas Jewel Ball, Town & Country Magazine, Scripps Mercy Hospital and Leonard Simpson's 10 Best Dressed in San Diego, Arthritis Foundation of San Diego, St. Madeleine Sophie's Center, The Kymberli and Vaughn Parker Family Charitable Foundation, A New Parth, Ronald McDonald House Charities, Moores UCSD Cancer Center Luau & Longboard event, La Jolla Beach & Tennis Club, Rainforest Alliance, The International Seakeepers Society, San Diego Magazine, La Jolla Chamber Music Society, La Jolla Music Society, University of San Diego Magazine, KPBS, Jordan Art Couture, the Cheetah Conservancy Foundation, San Diego Humane Society, P.A.W.S. aka Pets Are Wonderful Support, Gretchen Productions, The Reader of San Diego, the San Diego Union Tribune, Sign on San Diego, SDTheatre.com, Ranch & Coast Magazine, Leonard Simpson's Fashion Forward, La Jolla Light, La Jolla Today Magazine. La Dolce Idea with Sabrina, Jemima Garcia Designs, L.A. Fairchild, KUSI News, Vista Hill, San Diego Rescue Mission, Zandra Rhodes Fashion Shows, FCC aka Fashion California College, the BBC, KFMB CBS 8, News 8, Discover San Diego, Muscular Dystrophy Association, Fox 6 News, San Diego News 6, La Jolla Light, La Jolla Village News, Rancho Santa Fe Review, San Diego Woman Magazine, Cuisine of Southern California with Chef Bernard Guillas, After the Finish Line Newsletter with Dawn Mellen, the feature film Step Into Liquid, Baywatch, RosieTisch.com The Roger Hedgecock Radio Show, Eye on L.A. Tahiti segment with Jann Carl
We would like to say a special thank you to our advertisers.
Annonymous of the Dian Fossey Gorrilla Fund International
Dr. Laurie Marker of The Cheetah Conservation Fund
Frank Whiteley of Executive Protection Agency K9 and Investigative Services
Gordana of GoGa Couture
Jacqui Grande of Radiance International Fine Jewelry
Pat O'Connor of Fashion Careers College
Betsy of Chef Betsy G
Pamela Pogue of Juelerie
Kary Favish of the Worth Collection
Diana Cavagnaro of Designer Millinery
Fred Borrelli and the Scorpion Bay Fishing and Surfing Club
Gary Lawrence of Safe Ride Solutions
Matt Rimel of Rimel's Rotisserie, Zenbu Sushi and Restaurant, and Home Grown Meats
Jordan Sacks of Jordan Art Couture
Lizz Russell of The Lizz Russell Collection
Gary Parker of WineSellar & Brasserie
Chef Pasquale of Cafe Milano
Alex Gonzalez of Mercedes Benz of San Diego
Diane Bousquin of Holistic Traditions
Kevin Smith of Extreme Pizza in La Jolla
Jeremiah Sullivan of Neptunic Sharksuits
Thom Tullis of Travel O2
Drs. Sue and John Morizi of The Animal Hospital of La Jolla
Jemima Garcia Dutra of Dutra Designs
Eugene Ladopoulos of Mistra Estates Olive Oil