~ The Social Diary ~
the on-line magazine covering High Society ..& more
____________________________________________________________
Valerie and Harry Cooper, The Halerie's on the "Hot List"
December 27th, 2005 - The 'who's hot' list includes a couple who are 20 years strong. Valerie and Harry Cooper or the Halerie's, as they are affectionately now known, have had a long devotion to supporting San Diego causes. The Museum of Contemporary Art San Diego, The Jewel Ball, the UCSD Cardiovascular Ball, American Friends of Zandra Rhodes Textile Museum, the San Diego Museum of Art, the Rebecca and John Moores UCSD Cancer Center.... you get the idea. And they support and chair these and many other events with grace.
One of San Diego's prime 'givers and shakers', this couple has led an interesting life. Harry, the Versace wearing half of the Halerie's, made his fortune through computer education programs, formerly owning the Sports Arena ie the IPay Arena, and building and owning the Torrey Villas. Valerie, always a fashion plate in Oscar de la Renta, Marc Bower and more, lives part of her life at committee meetings, chairing events solo, sometimes as Halerie. The other part of her life is practicing and competing in equestrian events,and she wins, and traveling with Harry.
The Halerie's are quite fond of Aspen, in season, Europe, and an occasional, elegant, hut foray in Tahiti and such.
To Valerie and Harry Cooper, aka the Halerie's, SDSD salutes your kindness and your contribution to San Diego's many organizations.
The Halerie's, Harry and Valerie Cooper.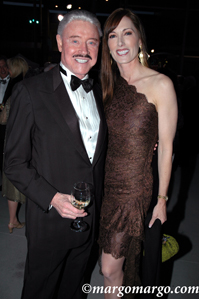 Warning ** photos, video and writing on this site are the
copyright of the author, The Social Diary, San Diego Social Diary, margomargo.com and Margo Schwab.
no reproduction of any part or parts is allowed without written permission by Margo Schwab