~ The Social Diary ~
~~~~~~~~~~~~~~~~~~~~~~~~~~~~~~~~~~~~~~~~~~~~~~~~~~
Introducing Kima the Canine Connoisseur
Living Big In La Jolla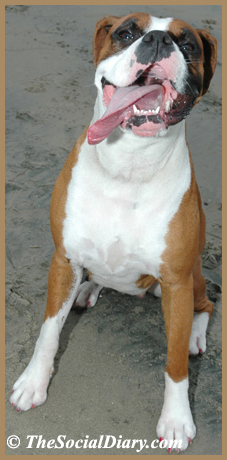 February 12th , 2007
The Social Diary's Kima the Canine Connoisseur
La Jolla is a destination. People come from all over the world to live here. I am one of the very grateful, and lucky few to live here.
First, I would like to introduce myself. I am Kima. I will be 18 months on Valentine's. I am so excited because my Mommie and Daddy are taking me to one of my favorite restaurants so far, Barbarella's. They have the best food. It is really neat too because it will be my Mommie and Daddy's 6th Anniversary of their engagement. We will celebrate together.... I know what I am ordering. Steak!
Now for my background. I am a purebred boxer. I came from an Arkansas breeder, and then I sat in a San Diego pet store. I was miserable, but not for too long. I was swooped up with my brother by a police officer's family..... But again, not for long. My police officer Daddy died tragically when he was going home after work. Me and my brother were put in a temporary home. Another police officer's. But his family only wanted to keep one of us so up for adoption I went.
It was November 3rd, 2006 when I first met my current and forever family. My parents are Police Officer Scott Johnston and his wife Margo Schwab. They thought I was terribly cute, but tugged on the leash too much at first. I overheard them talking about what to do. Well two days later, and adorned with a new training Sensa-tion Harness from the San Diego Humane Society , I had them smitten, and I was smitten with them.
Getting them trained while they thought they were training me has been funny.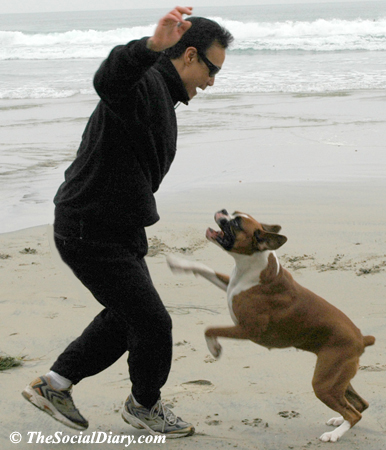 Scott training Kima or is that Kima training Scott in tactical maneuvers
I didn't eat at first, so I was fed grilled chicken from Osteria Romantica. The owner Fabio and the waiter Luca spoiled me. Then I worked Mommie and Daddy for steak bits with my IAMS... and special sauce too on the nights when we stay home.... Pretty clever no?
Hey, I may be a rescue dog, but I am not into 'ruffing' it!
Since arriving at my new home, I have debuted at Sally and John Thornton's New Year's Day party, had paw-di-cures... just love red nails, and have gone for my couture measurements and fittings. J.Jenniene Couture's Jemima Garcia is fabulous, but, I can't believe Mommie wants to have me dress like her.... isn't that a bit silly? Doesn't she understand that I like to be comfortable??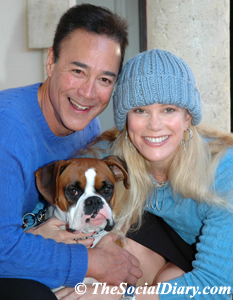 Kima and her family, Scott and Margo, at the Thornton's New Year's Day Party 2007
Until next time.... More technical training with Daddy. And then I'm off to dinner tonight. Mommie and Daddy said I have to earn my keep so I am doing a restaurant review.... but I am doing it my way... !
More next week on why I am a runaway bride!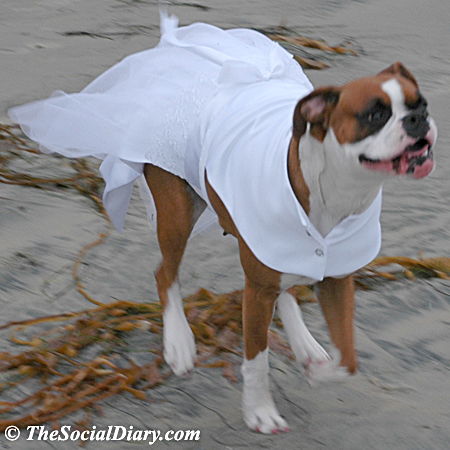 Love ** Kima, the Canine Connoisseur!
About Kima. Kima is a rescue boxer. Her favorite charities are: the San Diego Humane Society and the Humane Society United States, the San Diego Animal Advocates and the Spay Neuter Action Project, the San Diego Animal Support Foundation, the Helen Woodward Center, and any event Mommie and Daddy go to so that she can get a matching gown to Mommie's!
Warning ** photos, video and writing on this site are the
copyright of The Social Diary, San Diego Social Diary, margomargo.com and Margo Schwab.
no reproduction of any part or parts is allowed without written permission by Margo Schwab