~ The Social Diary ~
~~~~~~~~~~~~~~~~~~~~~~~~~~~~~~~~~~~~~~~~~~~~~~~~~~
Kima the Canine Connoisseur
The 'RunAway Bride'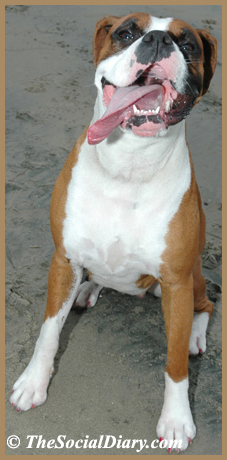 March 31st , 2007
The Social Diary's Kima the Canine Connoisseur
There I was, all glammed up for my wedding down by Scripps Pier. My nails were done, red of course. I had on my custom gown by Jemima Garcia of course, and I was primped for my pre-wedding shots.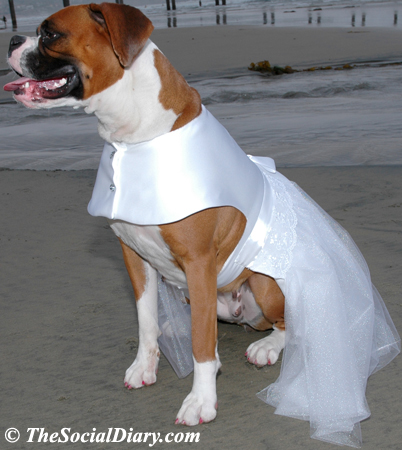 And then I started pacing.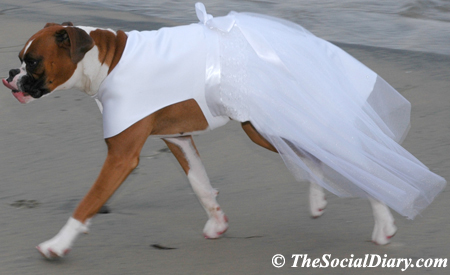 Daddy and I talked about what true love is. He said if the guy isn't your best friend, man's best friend, then don't go through with it.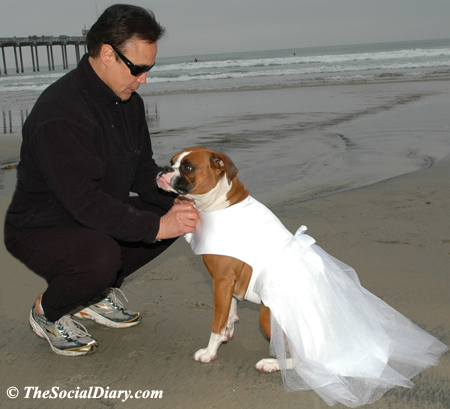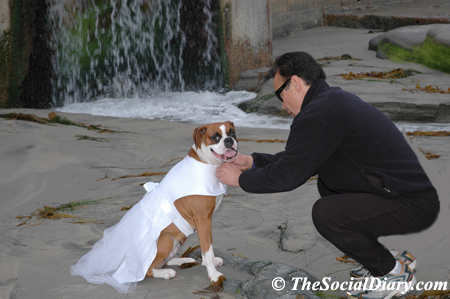 Daddy got changed into his tux and we talked so more. I pleaded with him. Do I have to marry him? And Daddy, said "do what you heart tells you Kima. Whatever you do, it's okay."
And then it happened. My stomach turned. I was marrying the wrong 'man's best friend,' because he wasn't my best friend!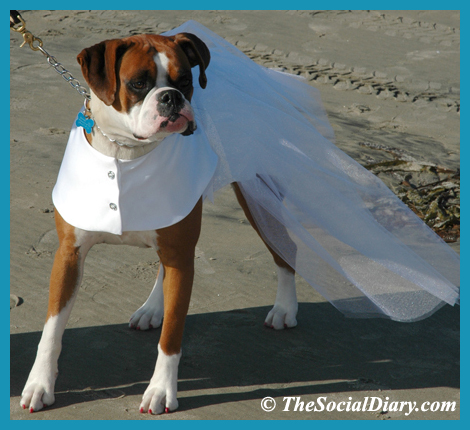 I was in love with another Canine!..... So I Ran!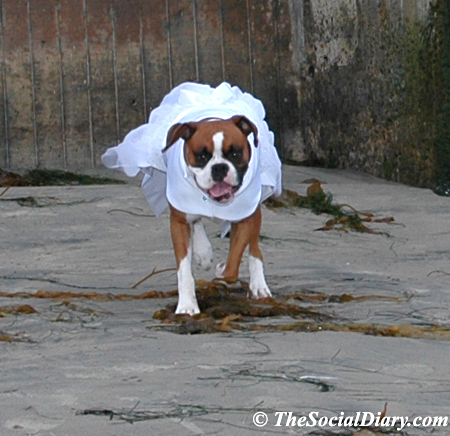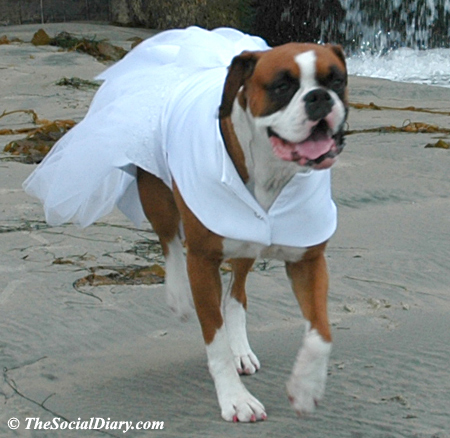 And I ran!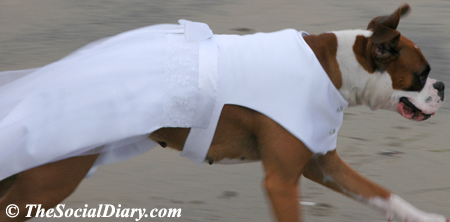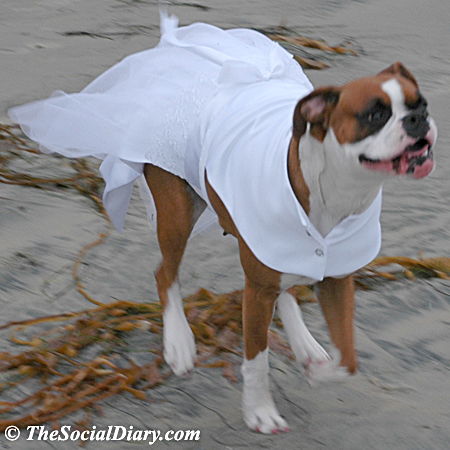 I ran straight back to my true love... more, lots more, on that next time!
Special thanks to Daddy for clearing my thoughts and to these special friends for their support:
I love Spartakus.... he's cool... just look at those shades. And he's truly been a good friend in my turmoil. Never hesitates to send me a beef scented letter or pick up the phone and just bark!
Spartakus's favorite place to meet me is Little Italy, His mom, Julie Warner is cool. She drives him around in a Beetle.
(/photo by proud Mom, Julie Warner)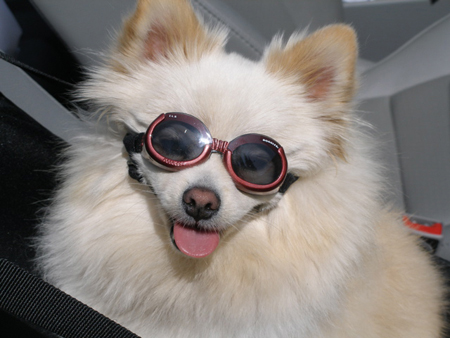 And then there are my Dallas buddies......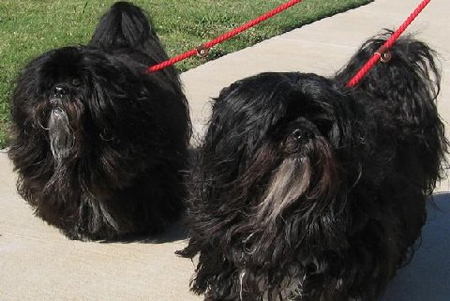 These two are more than beautiful ... Think bark with an adorable Texan twang and lots of do-good attitude. Introducing my friends, Murphy and Bailey from the 'Big D Dallas!' These two are so PC. They eat organic or pure stuff only. Think 'Cowboy Cookout,' 'Grammy's Pot Pie,' and 'Wilderness Blend' from Merrick pet food. Way cool!
Their Mommie, Pamela Bertsch, spoils them big and they love it. She's cool too. She just went to the Genesis Awards at the Beverly Hilton in support of animal rights. Otherwise you can find Murphy and Bailey with their Mommie at Primos in Dallas hanging out and having some good nibbles.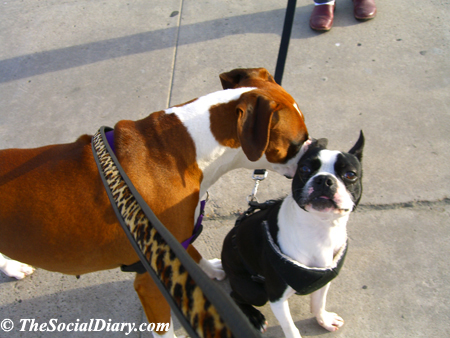 And here's me and my buddy Elvis. He's like a mini-me with spunk. Can you tell how patient he is as I tell him the latest on my love life?
Til next time!
click here for Kima's first column
About Kima. Kima is a rescue boxer. Her favorite charities are: the San Diego Humane Society and the Humane Society United States, The Arthritis Foundation of San Diego, the San Diego Animal Advocates and the Spay Neuter Action Project, the San Diego Animal Support Foundation, the Helen Woodward Center, and any event Mommie and Daddy go to so that she can get a matching gown to Mommie's!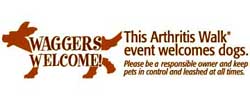 Dogs get Arthritis too!
As many as 1 in 5 adult dogs have arthritis. And although there is no cure, chronic arthritis pain can be managed with the help of diets, exercise and proper medications.
Limping is the most recognized symptom of canine arthritis. Followed by stiffness and difficulty walking.
A daily walk can help control arthritis. Regular exercise helps maintain joint health and improves overall health for you and your pet.
Come join the Arthritis Foundation on Sunday, May 20, 2007. Please call Allison Adams for more information at (858) 492-1090 ext 114 or email to aadams@arthritis.org.
Kima the Canine Connoisseur says she will be there! ....