~ The Social Diary ~
~~~~~~~~~~~~~~~~~~~~~~~~~~~~~~~~~~~~~~~~~~~~~~~~~~
Kima the Canine Connoisseur aka 'The RunAway Bride'
Shopping for My New Man!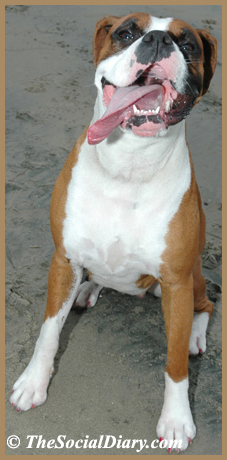 July 11th , 2007
The Social Diary's Kima the Canine Connoisseur
What's a girl to do after running away from her wedding. Well, these four paw-di-cured paws were meant for shopping.... that's male doggy shopping!
So off I went. It was time to lure. I put on my red negligee. But Mommie said "that's way too 'desperate doggy' looking."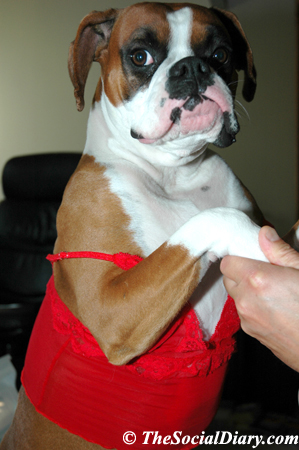 So I tried the sophisticated zebra striped bikini look from rrrrrrrrrrrrREEF! EWWWW! I look like a Baywatch extra. ..... Nope, not good either. And frankly a little constricting on the tush.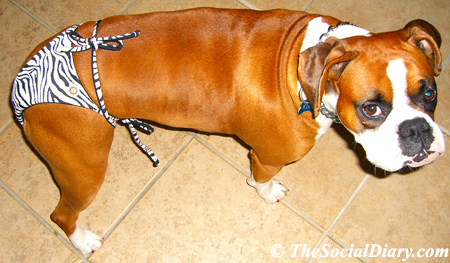 I thought this look was subtle. 'Got Gown Will Marry' ... but still didn't find anyone up to sniff snuff.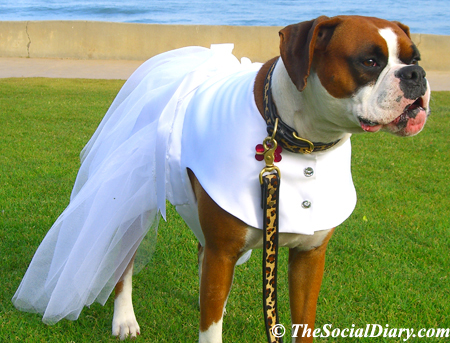 I mean, I really got the dog house blues. Awoooooo.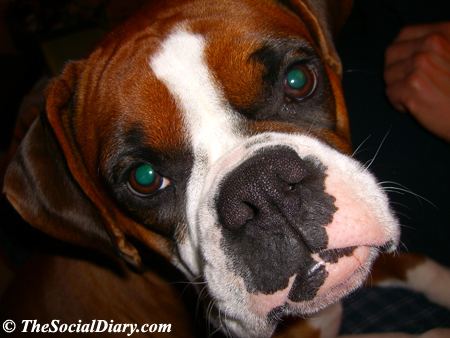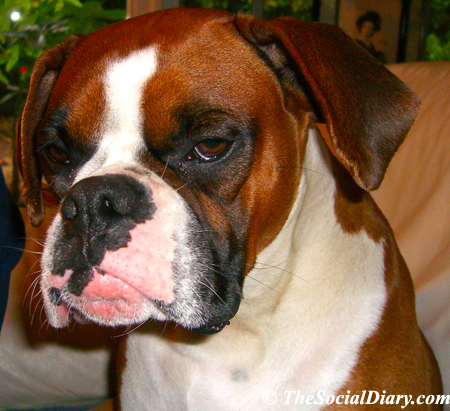 So my buddy Spartakus took me out. We dressed up to the nines and we went to town. I don't kiss and tell, but you know we really are just good friends.... you know like they always say in Hollywood, 'just friends!'
(photo by proud Mom of Spartakus, Julie Warner)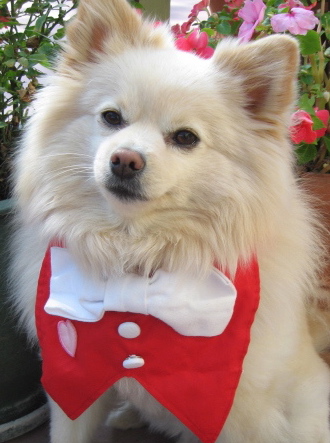 And then I sniffed around these two. Both cute, but let's face it, one's too old and one is way too young!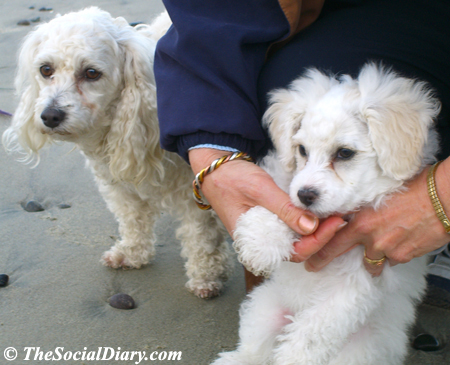 So then I got dressed up in my new gown by Jemima Garcia. Daddy told me "stop trying so hard and love will happen."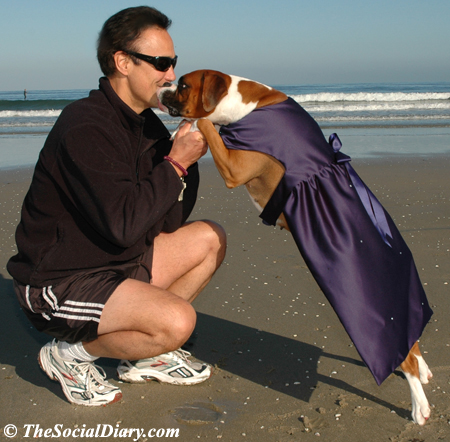 So did I listen to Daddy? Woof No! I attacked ..... scared the guy completely away. Drats!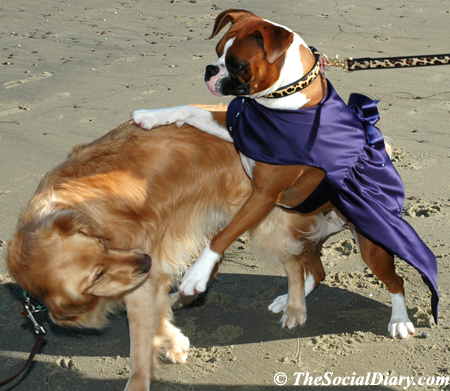 So then I meet Cheval.... what a stud. His name means horse in French. I thought that was a good sign. All was good until I sniffed him out. I may be young, but I know a male when I see/ sniff them... and Cheval is not, I repeat not a male. Giant Schnauzer my eye! Double drats!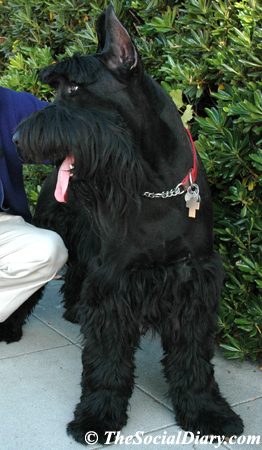 Then I meet these two. Really nice, but a bit of the Beatles mod throwback on the hairdo's don't you think?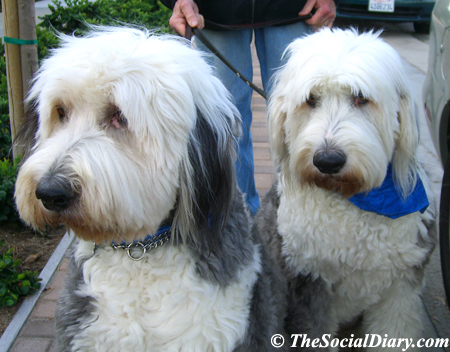 So I barked up Casper and Crush. I love these two, I mean big time. I am just waiting for them to make a move.... Yo, 1-800-KIMA!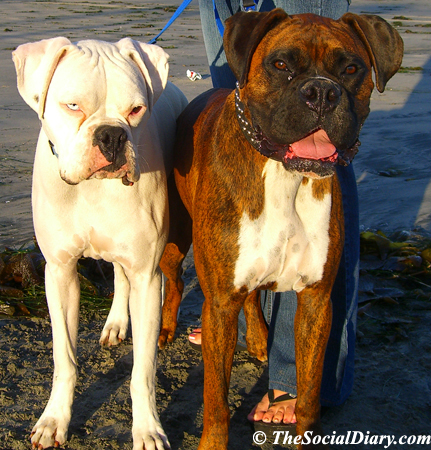 So I decided to spa it. I gave myself a sand facial. It's all the rage.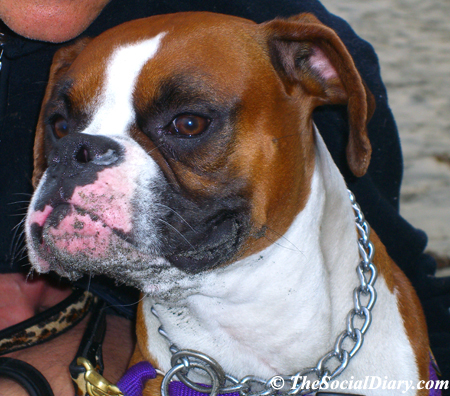 I'm not too subtle in the looking department . "Oooh Daddy, did you see that one?"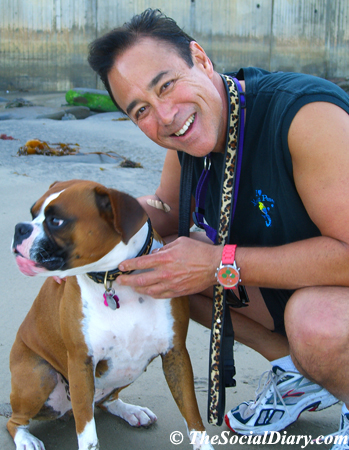 Here's my buddy Cosmo. He's a wiry little cutie. But he's on the East Coast for the Summer. Maine or something I believe.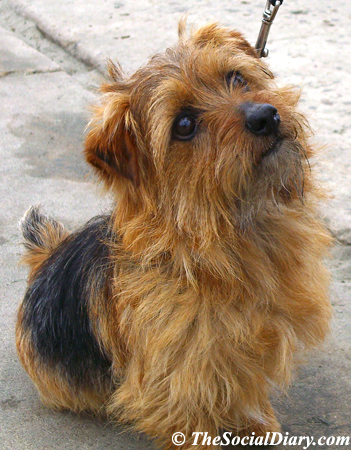 And this is 'East Coast Elvis.' Maybe when he's older I'll just be a Cougar and he'll be the way younger stud for me.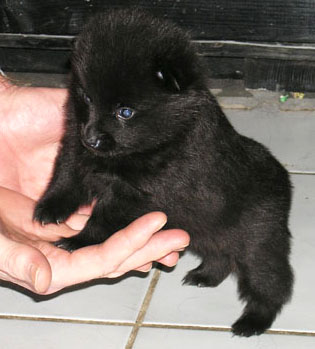 I rang Daisy but she said call back later. She's 'whoofed' from sheep herding class in Valley Center. Bugger!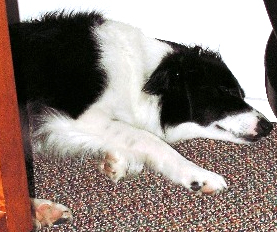 So here I am pouting.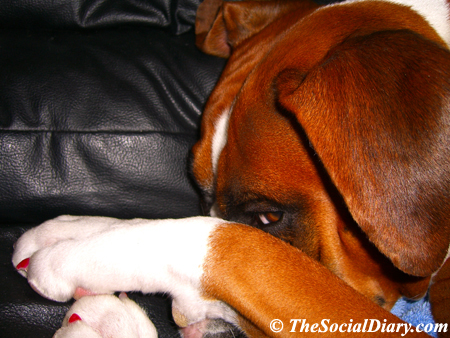 And then I got a call from my Dallas buddy Murphy. Murphy reminded me to focus on others. Get involved. Do something! So with Murphy's suggestion I checked out www.romaniaanimalrescue.com They need big help with spaying and neutering. Animal control is so out of control there that the Helen Woodward Animal Center kindly stepped in and rescued some of our Romanian friends.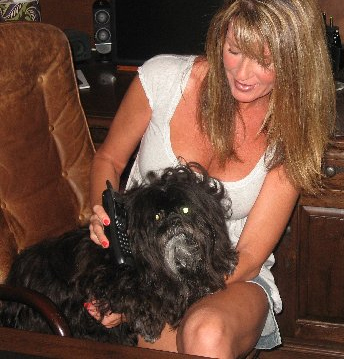 And so with a refreshed perspective, I realized love can wait. Besides, I'm Daddy's Girl... and he and Mommie love me so much! .... p.s. - I love them too!!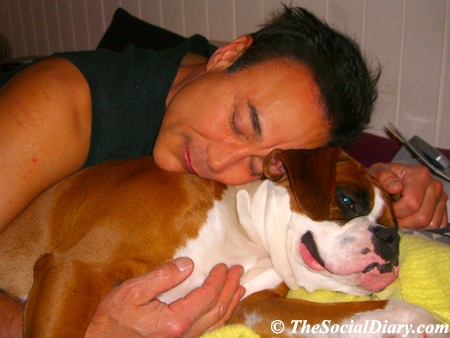 This column is dedicated to Diane Davidson who loved animals!
Til next time!
click here for Kima's first column
click here for Kima's second column
About Kima. Kima is a rescue boxer. Her favorite charities are: the San Diego Humane Society and the Humane Society United States, P.A.W.S., The Arthritis Foundation of San Diego, the San Diego Animal Advocates and the Spay Neuter Action Project, the San Diego Animal Support Foundation, the Helen Woodward Center, and any event Mommie and Daddy go to so that she can get a matching gown to Mommie's!